Learn About the Services That Strides Pediatric Therapy Offers in Utah
Occupational Therapy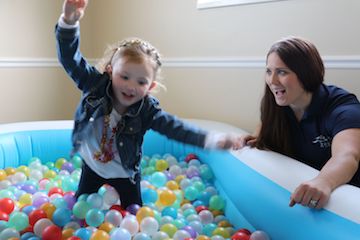 The pediatric occupational therapist (OT), through the use of purposeful activities and play, assist children in reaching their optimal level of independence in all areas of their daily living. Occupations for a child may include: play, social interaction, self-care (feeding, dressing, bathing etc), and learning and engaging with their environment. The OT strives to create a "just right challenge" to engage the child in new skill development and/or to strengthen underlying skill sets. They work to ensure the child is functioning at their highest potential while maintaining a child centered, engaging and purposeful environment.
When does my child need OT?
OT is often recommended when there is a delay in fine motor skills, sensory processing concerns, visual perceptual concerns, or when there is difficulty related to age appropriate self-care performance. These delays or concerns can often be related to conditions such as Down Syndrome, Autism, ADHD, Traumatic Brain Injury, Cerebral Palsy, and other related disorders but can also occur without any diagnosis or condition present. Our therapists are available to evaluate your child to determine if they are appropriate for OT and to create a treatment plan that fits your child's needs.
Physical Therapy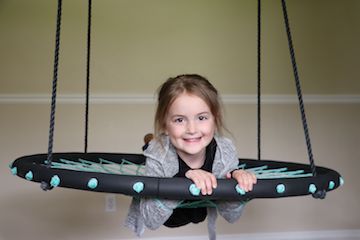 The pediatric physical therapist (PT) focuses on the child's ability for independence and participation in daily activities within their environments (home, school, playground, etc.) related to motor and coordination skills. They often work with children who have injuries or conditions that impact their motor function and control. In addition to motor function, they can also address orthopedic and neurological developmental concerns as well as pain management.
When does my child need PT?
PT is often helpful for a child when there is a movement disorder or motor skill delay that is impacting their daily life and independence. These delays can be related to a variety of disorders such as Cerebral Palsy, Down Syndrome, Autism, Muscular Dystrophy, Spina Bifida, Cancer, Traumatic Brain Injury, and other related disorders. Pediatric PT can also be necessary for children who have abnormal muscle tone, developmental delays, coordination delays, toe walking, vestibular/balance issues, and other orthopedic issues such as joint/back pain that are not specifically related to a disorder or diagnosis. Torticollis and plagiocephaly in infants can also be treated by a pediatric physical therapist. Our therapists are available to evaluate your child to determine if appropriate for PT and create a treatment plan that fits your child's needs.
Speech Therapy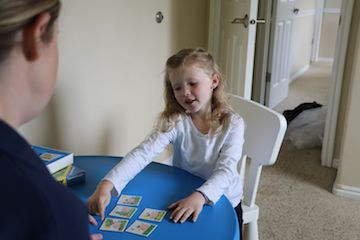 TThe pediatric speech language pathologist (SLP) works with children who have deficits in the areas of communication, language skills, oral motor control, feeding/swallowing issues, or hearing related concerns. They can address the need for specialized communication devices, which can range from simple (such as word cards) all the way to voice generated communication devices.
When does my child need Speech Therapy?
Pediatric speech therapy is recommended when a child is not demonstrating age appropriate vocalizations or receptive/expressive communication, poor oral motor control, self feeding concerns or issues related to their hearing (including hearing aids etc). Our therapists are available to evaluate your child to determine if appropriate for ST and to create a treatment plan that fits your child's needs.
Hippotherapy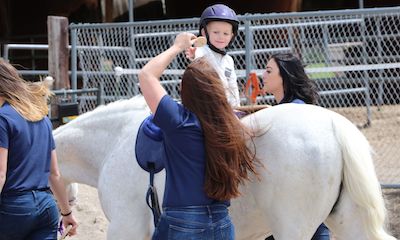 Hippotherapy means "treatment with the use of the horse" from the Greek word, "hippos," meaning "horse." It is a treatment strategy that utilizes evidence based practice and clinical reasoning in the purposeful manipulation of equine movement as part of a therapeutic intervention treatment plan that was developed by a licensed and trained occupational, physical and/or speech therapist to promote functional outcomes related to each child's specific needs. It is not its own therapy or treatment modality. More simply, hippotherapy is done as part of an OT, PT, or ST session, and the movement of the horse is used as a tool, the same way a medicine ball or weight is used. The therapy team consists of a licensed therapist (OT, PT, or SLP) who has completed training under the American Hippotherapy Association, a trained horse handler, trained volunteers, and an equine partner chosen to fit the needs of the child.
The movement of the horse is unique in that it provides a movement that is rhythmic, repetitive and variable which is similar to that of the human gait. It is multidimensional movement that can be purposefully manipulated to facilitate the neuromuscular and sensory systems that support functional skills as well as modified by the therapy team to increase/decrease complexity of the demand being created by the therapist. Hippotherapy provides a dynamic base of support and is an excellent strategy for working on core strength, motor planning/control, balance impairments, strength, endurance, and weight bearing/shifts. An average horse walks at a rate of approximately 100 steps per minute. So in 30 minutes, a walking horse promotes an average of 3000 neuro-motor inputs to the patient, which would be impossible to replicate within a typical clinic setting. Increased motivation and participation in treatment, as well as social and emotional benefits are often reported with hippotherapy, as kids receive the benefits of a relationship with a horse.
Who can benefit from Hippotherapy?
Persons with neuromuscular conditions or difficulties such as abnormal muscle tone, balance, coordination, motor control, postural control, impaired communication, decreased mobility, sensory processing difficulties and functional attentional skills. Below are a few research articles demonstrating the benefits of hippotherapy.
· Zadnikar, M., & Kastrin, A. (2011). Effects of hippotherapy and therapeutic horseback riding on postural control or balance in children with cerebral palsy: A meta-analysis. Developmental Medicine and Child Neurology, 53(8), 684-691
· Angoules, A., Koukoulas, D., Balakatounis, K., Kapari, I., & Matsouki, E. (2015). A review of efficacy of hippotherapy for the treatment of musculoskeletal disorders. British Journal of Medicine and Medical Research, 8(4), 289–297
· McDaniel Peters, B.C., & Wood, W. (2017). Autism and equine-assisted interventions: A
systematic mapping review. Journal of Autism and Developmental Disorders, 47, 3220–
3242.
· Benda, W., McGibbon, N.H., & Grant, K.L. (2003). Improvements in muscle symmetry in
children with cerebal palsy after equine-assisted therapy (hippotherapy). The Journal of
Alternative and Complementary Medicine, 9(6), 817-825.
· Casady R.L., & Nichols-Larsen, D.S. (2004). The effect of hippotherapy on ten children with cerebral palsy, Pediatric Physical Therapy. 16(3), 165-172
· Champagne, D., & Dugas, C. (2010). Improving gross motor function and postural control with hippotherapy in children with down syndrome: Case reports. Physiotherapy Theory and Practice, 8, 564-571.
· Chang, H.J., Kwon, J.Y., Lee, J.Y., & Kim, Y.H. (2012). The effects of hippotherapy on the motor function of children with spastic bilateral cerebral palsy. Journal of Physical Therapy Science, 24(12), 1277-80.
· Encheff, J.L., Armstrong, C., Masterson, M., Fox, C., & Gribble, P. (2012). Hippotherapy effects on trunk, pelvic, and hip motion during ambulation in children with neurological impairments. Pediatric Physical Therapy, 24(3), 242-250.
· Granados, A.C., & Agis, I.F. (2011). Why children with special needs feel better with
hippotherapy sessions: A conceptual review. The Journal of Alternative and
Complementary Medicine, 17(3), 191-197.
· Hamill, D., Washington, K., & White, O.R. (2007). The effect of hippotherapy on postural
control in sitting for children with cerebral palsy. Physical & Occupational Therapy in
Pediatrics, 27(4), 23-42.
· Hsieh, Y., Chang, Sun, Chan, Want, Luo (2017). Effects of hippotherapy on body functions, activities and participation in children with CP based on ICF-CY assessments. Disability and Rehabilitation, 39:17,1703-1713
· Krejčí, E., Janura, M., & Svoboda, Z. (2015). The benefit of hippotherapy for improvement of attention and memory in children with cerebral palsy: A pilot study. Acta Gymnica, 45(1), 27–32
· Kwon, J.Y., Chang, H.J., Yi, S.H., Lee, J.Y., Shin, H.Y., & Kim, Y.H. (2015). Effect of hippotherapy on gross motor function in children with cerebral palsy: A randomized controlled trial. Journal of Alternative and Complementary Medicine, 21(1): 15-21.
· Llambias, C., Magill-Evans, J, Smith, V. et al (Nov/Dec 2016) Equine-Assisted Occupational Therapy: Increasing Engagement for Children with Astism Spectrum Disorder. The American Journal of Occupational Therapy, 70 (6)1-9.
· Moraes, A., Copetti, F., Angelo, V., Chiavoloni, L., David, A. (2016) The effects of hippotherapy on postural balance and functional ability in children with cerebral palsy. The Journal of Physical Therapy Science, 28, 2220
Mental Health Therapy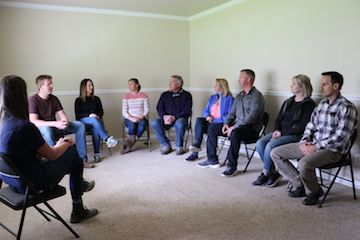 Living with a disability can be difficult, for both the child and for the family support system. Strides offers individual therapy sessions, family therapy sessions, and parent and family member support group sessions to provide support for dealing with these difficulties. Our individual and family sessions address any concerns or difficulties your child and your family may be experiencing. Our group sessions are designed not only to help you process the experience of having a loved one with a disability, but also to create a community that members can turn to for support, both at and away from Strides.
Who can benefit from mental health therapy?
Psychotherapy can be beneficial for just about anyone at any time. It is not just for people with mental health issues, but can be beneficial for anyone who is dealing with stresses and difficulties in their life. Benefits of therapy include improvements in coping skills, mood, behavior, relationships, family dynamics, and much more. If you, your child, your spouse, or your family are struggling with symptoms such as depressed or anxious mood, attention or hyperactivity issues, apathy, temper issues, behavioral issues, academic issues, interpersonal issues, relationship issues, personality changes, or other issues related to mood and behavior, it will be beneficial to seek the help of a psychotherapist. Our therapists are available for initial sessions to see if therapy is right for you.
Recreational Therapy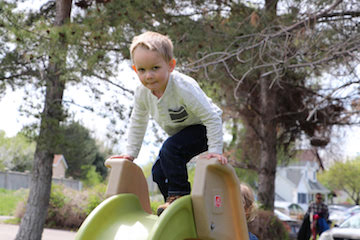 The pediatric recreational therapist (RT) focuses on developing greater independence in your child's skills, knowledge, and abilities while seeking greater health and wellness. The door is wide open to the recreational and activity possibilities utilized to support in your child's goal attainment, whether in group or individualized sessions. The RT focuses on the individual using recreational and activity centered interventions as tools to improve their well-being and overall quality of life. Interventions are chosen based on the individual's strengths and areas of limitation, their goals and their objectives. By incorporating recreation, activities, and your child's own interests or hobbies into each therapy session, the goal is to achieve outcomes that can transfer to their real life.
Adaptive Riding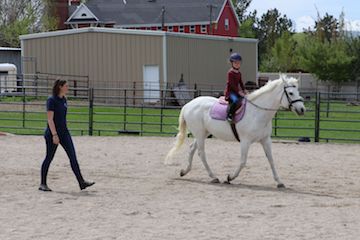 Adaptive riding (often referred to as therapeutic riding) is a horsemanship program that is adapted for a rider with a disability or challenge. The sessions are conducted under the supervision of an experienced instructor who has obtained specialized training and certification. They are trained to adapt the environment, equipment, teaching style/interactions, and physical demands in order to allow the participant to develop riding skills while participating in an activity they enjoy, and experiencing all of the benefits that riding and a relationship with a horse have to offer! At Strides, our adaptive riding is run but a PATH certified therapeutic riding instructor who is also a state and nationally licensed recreational therapist, brining in the added benefits of RT in addition to the benefits of adaptive riding.