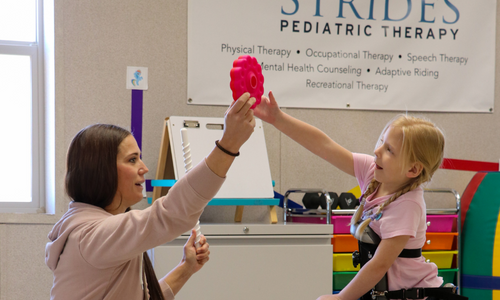 About Strides Pediatric Therapy in Utah
Learn More About our Pediatric Therapy Facility
Strides Pediatric Therapy was founded in 2019 by a group of like-minded and compassionate professionals that came together to create an organization that offers children the opportunity to make strides towards an independent and enriched life.
Strides started with a parent, an equestrian, a mental health professional, an occupational therapist, and one horse named Solomon. From there, the vision grew. Our founders understand the importance of providing meaningful and research supported therapies and treatment tools and therefore have created an organization that is able to offer a variety of tools/strategies including hippotherapy, nature based environments, sensory friendly spaces and collaborative treatment teams.
Our founders and executives are an active part of our treatment team, and strive to ensure that the mission of the organization stays focused on the children we serve. Strides is located at The Ranch at Pole Canyon, a ten acre facility boasting a fully accessible 90'x150' indoor arena, sensory trail accessible on foot and horseback, child-centered treatment spaces, amazing nature views and wonderful outdoor space. Located in Eagle Mountain, Strides is easily accessible from Utah County, Tooele County, and the Salt Lake Valley.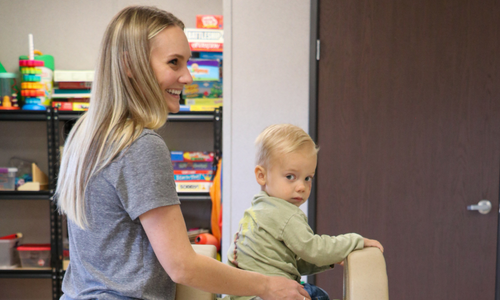 Who We Serve
We provide physical therapy, occupational therapy, speech therapy, mental health therapy, and recreational therapy services to children birth - 21 years of age with a variety of disabilities and/or needs. These include but are not limited to:
Traumatic Brain Injury

Oral Motor/Feeding Difficulties

Language Delays

Fine/Gross Motor Delays

Learning Difficulties

Auditory Processing

Sensory Processing

Attention Deficit Hyperactivity Disorders

Genetic/Chromosomal Disorders

Coordination Difficulties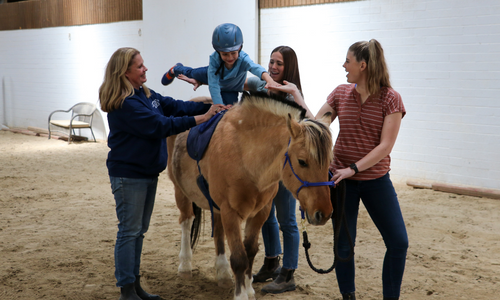 Why Choose Strides
We're dedicated to helping you and your family.
Strides Pediatric Therapy is centered on providing every child with specialized, one on one treatment while creating a motivating and family-centered environment. In collaboration with the family and the other members of the child's team, an individualized treatment plan is designed that focuses on functional and meaningful goals to address the specific needs of the child. Our therapists work closely with parents and other members of the team to provide education, involvement in therapy sessions, and carry-over of activities for the family.
Our unique setting allows for ongoing collaboration within the team of therapists to ensure the best outcome for each child. We provide skilled clinical services in a variety of settings, including individual treatment spaces, nature based spaces, and an equestrian facility. Not only do we provide a variety of therapeutic services and modalities, but all of these services are offered in a single convenient location. Every session is one to one and is facilitated by a licensed physical therapy, occupational therapy, speech language pathology, recreational therapy, or mental health professional.